Day one on the Via de la Plata
Sevilla to Guillena, 23km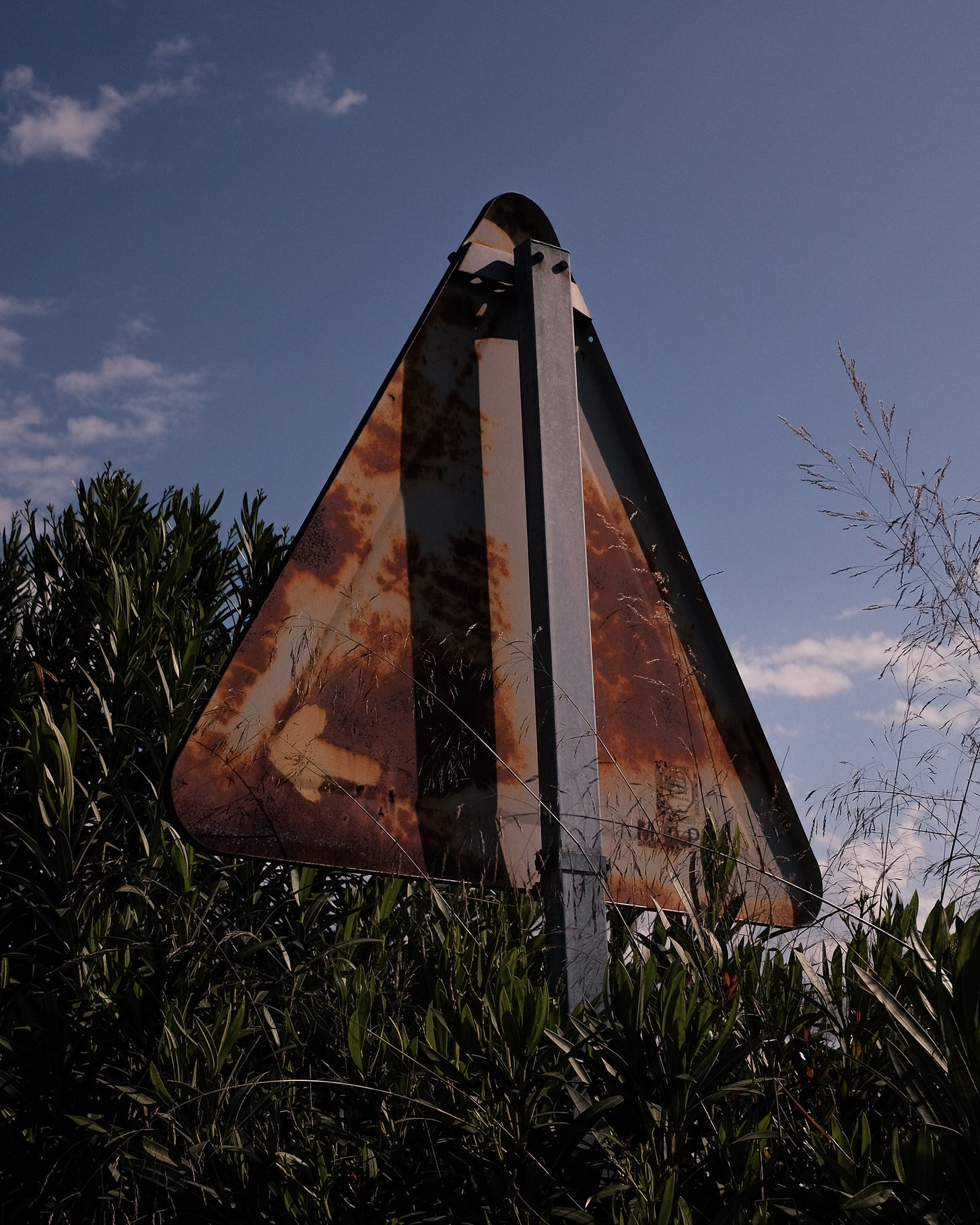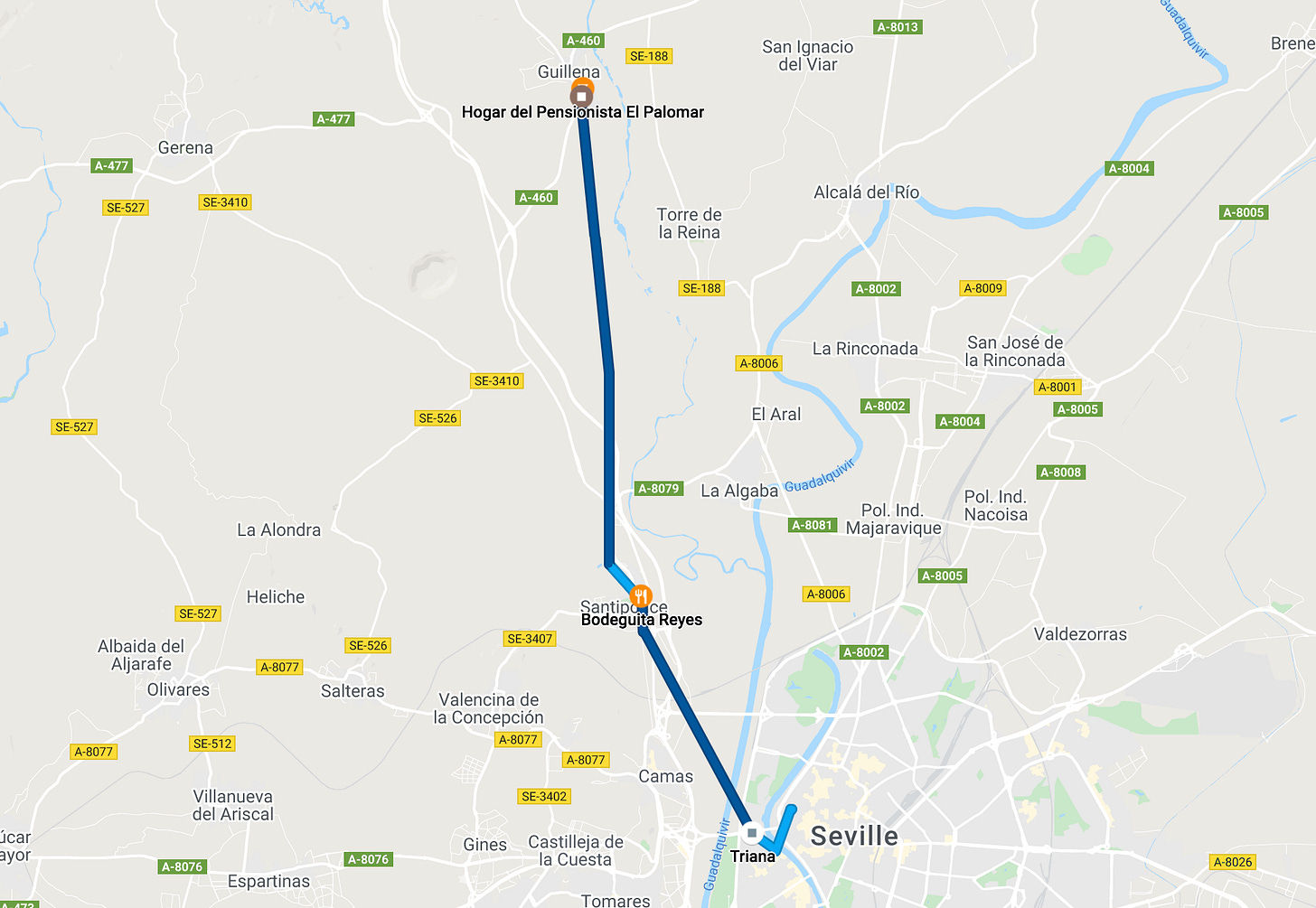 23km from Sevilla
My first day of walking. There were a few butterflies; a little nervousness, mostly excitement. I took a long time to get going and took an even longer time enjoying breakfast, finally starting the trail around 9 am. A trend I would set for the rest of the walk that often made me anxious about regularly being "behind" the other walkers, but the slowing down is something I've come to appreciate since. There's no fighting it to be honest; as a photographer and an all-round slowpoke, I was always going to be that person - the last pilgrim to show up at the end of the day, and the last one to leave in the morning.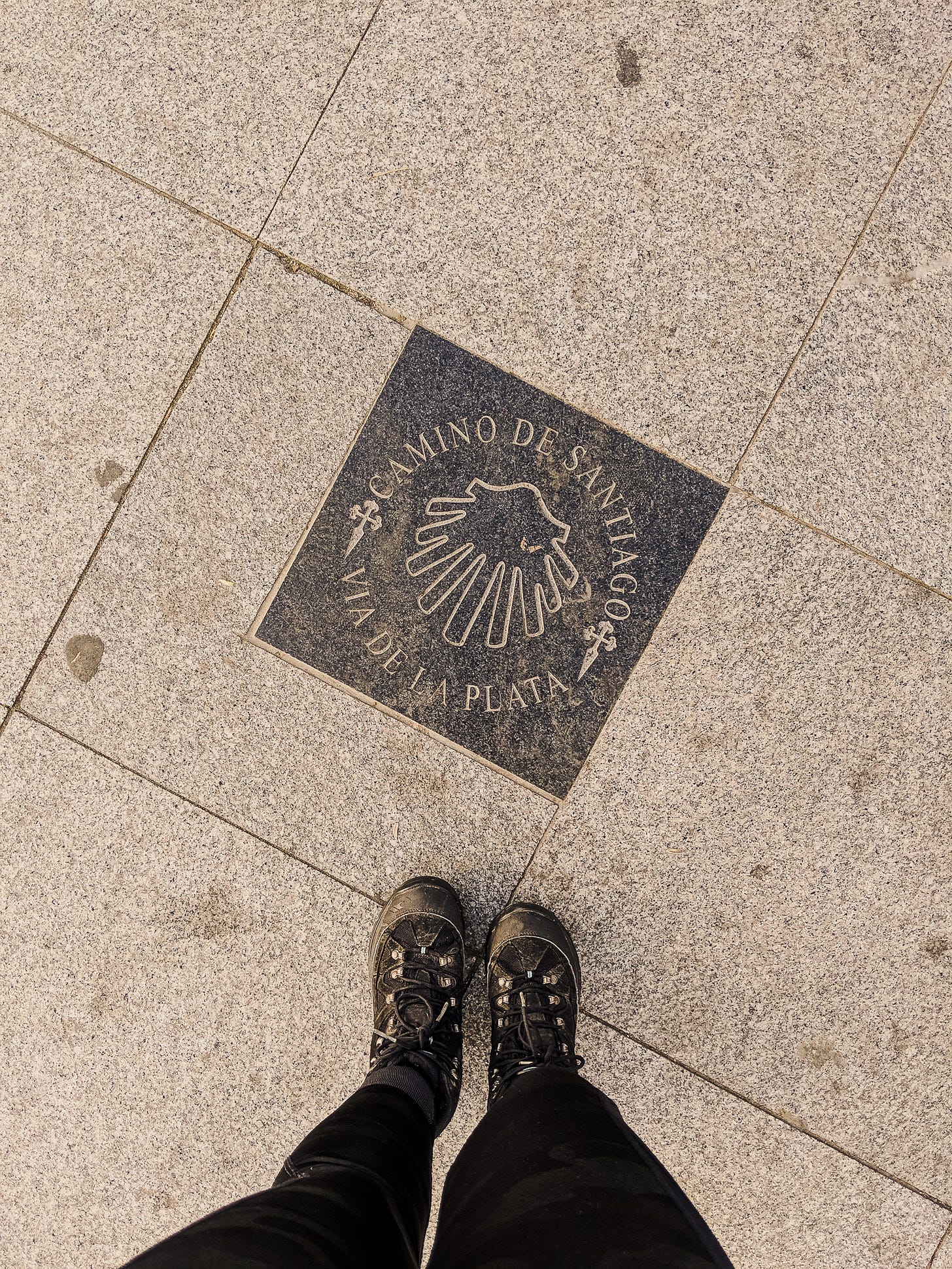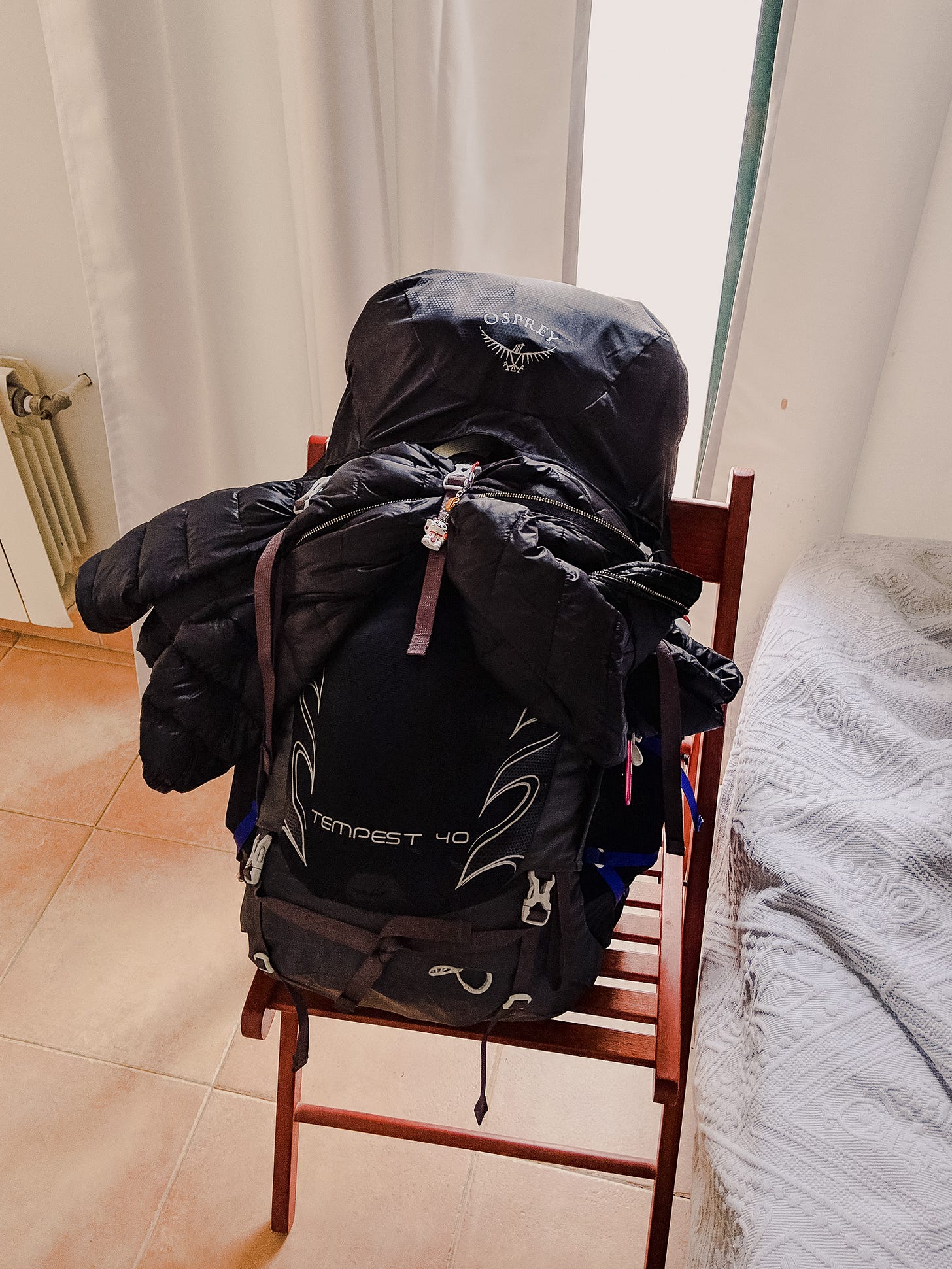 Prior to setting off, I'd read numerous notes from guides and forums and they all mentioned one section of the trail with lots of loose dogs. The alternative was to walk through an industrial area, but I wasn't too worried about the dogs and I wanted to go along the much-nicer-sounding riverbank.
As I was crossing the bridge which would lead there, I saw some farmers pull up with a handful of bulls. They looked that small from where I was standing, but there must have been about twelve of them, working hard transporting stone.
I was a bit nervous about talking to people and out of practice with both speaking to strangers and speaking Spanish, and I walked up slowly hoping to observe from a distance. I caught up with them anyway though; I think they were curious to see that I was following them. I ended up having a chill, friendly chat with them, and they only wanted to know what I was doing and where I was going. I found that, predictably so, locals always be like "the fuck you mean you're walking how many km to where?!", but quite jolly about it all and would wish me luck as I walked on. I got real close with some bull butts while I spoke with them, and I thought about taking some quick portraits but I wimped out. They let me pass them and so I left them behind.
Not long later, I came up to a farmhouse with countless dogs - this must have been the place everyone had been speaking about online, but most of the dogs were behind fences. There were only about four or five actually out, and they didn't bother coming close at all. One tiny dog must've been the self-appointed people watcher since they started barking as soon as they heard me and didn't stop until long after I'd left their sight. It's always the small ones that are the most aggy.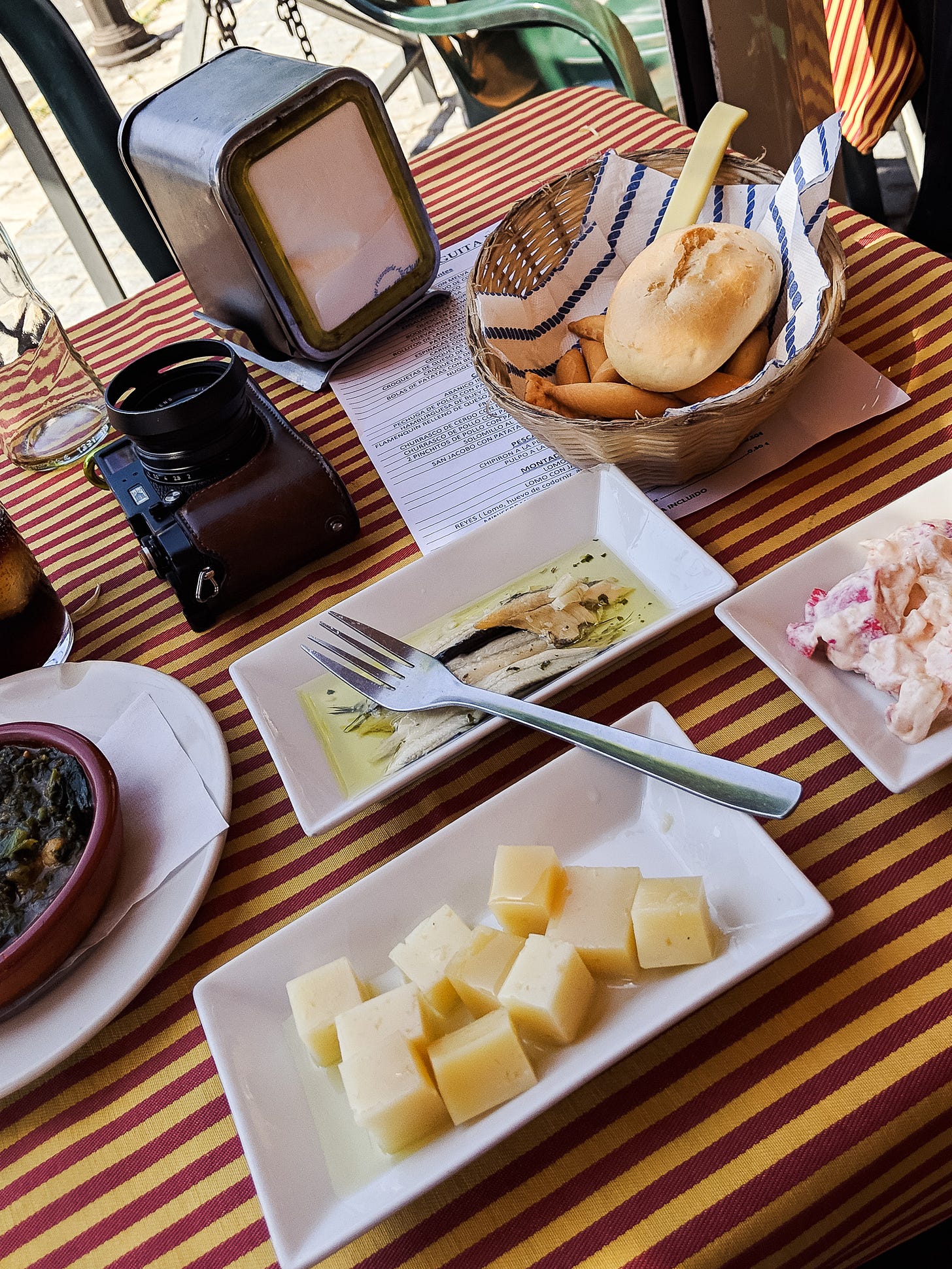 I stopped for lunch, which again ended up a slow, relaxed meal. I don't remember breakfast at all, but I remember this lunch so well. It was so hot, and it was incredibly relieving to sit outside, under some shade and eat the most deliciously refreshing food.
After, I headed for some sightseeing. I wasn't planning on taking time off the trail to visit places unless I was on a day off, but this particular time I was walking past an interesting site - the Italica ruins, the birthplace of several Roman emperors, including Hadrian of Hadrian's Wall. I strolled around the amphitheatre where Game of Thrones had, at the time, recently been filming for season seven. Yes, you got me, I'm not really a history buff but, in fact, a huge GOT fan (what season eight?).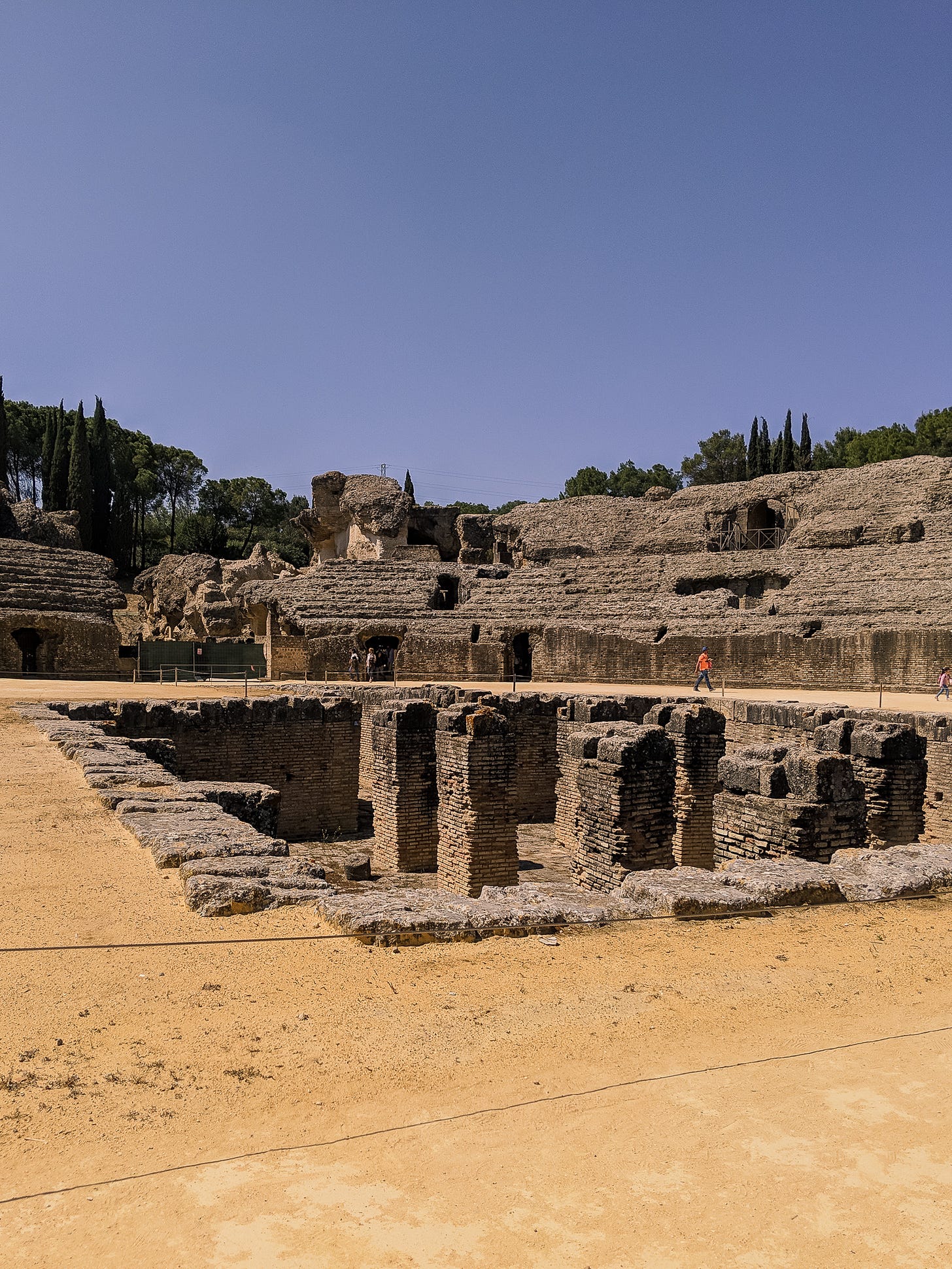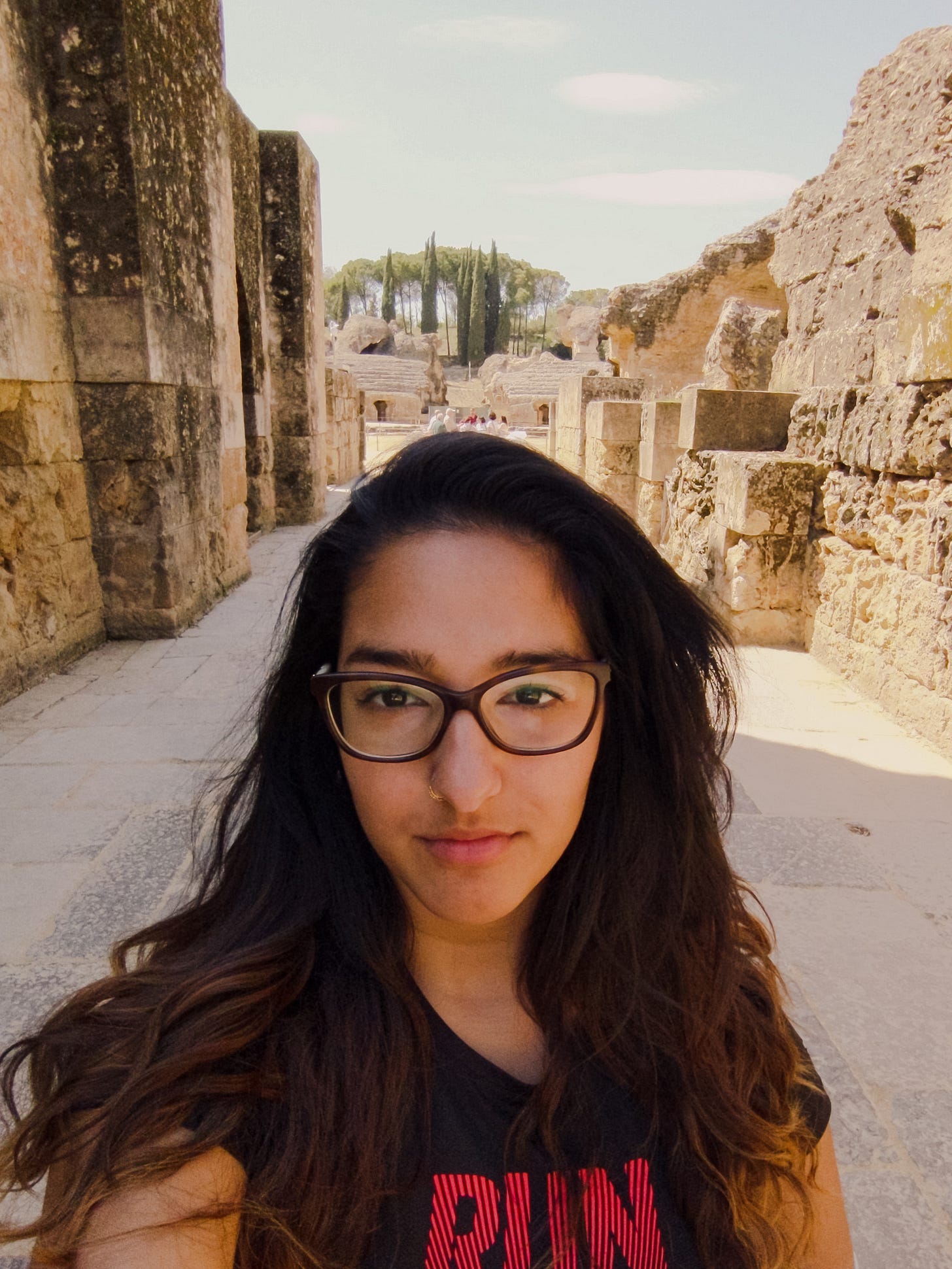 The rest of the day was following a trail through farmland, away from any sign of city or town or village, and I don't think I saw a single fellow pilgrim. I walked through the most madly beautiful rolling green and yellow hills which made me feel like I was inside the Windows desktop background. It was one very long, endlessly straight road with not much shade, but it was the perfect first-day walk.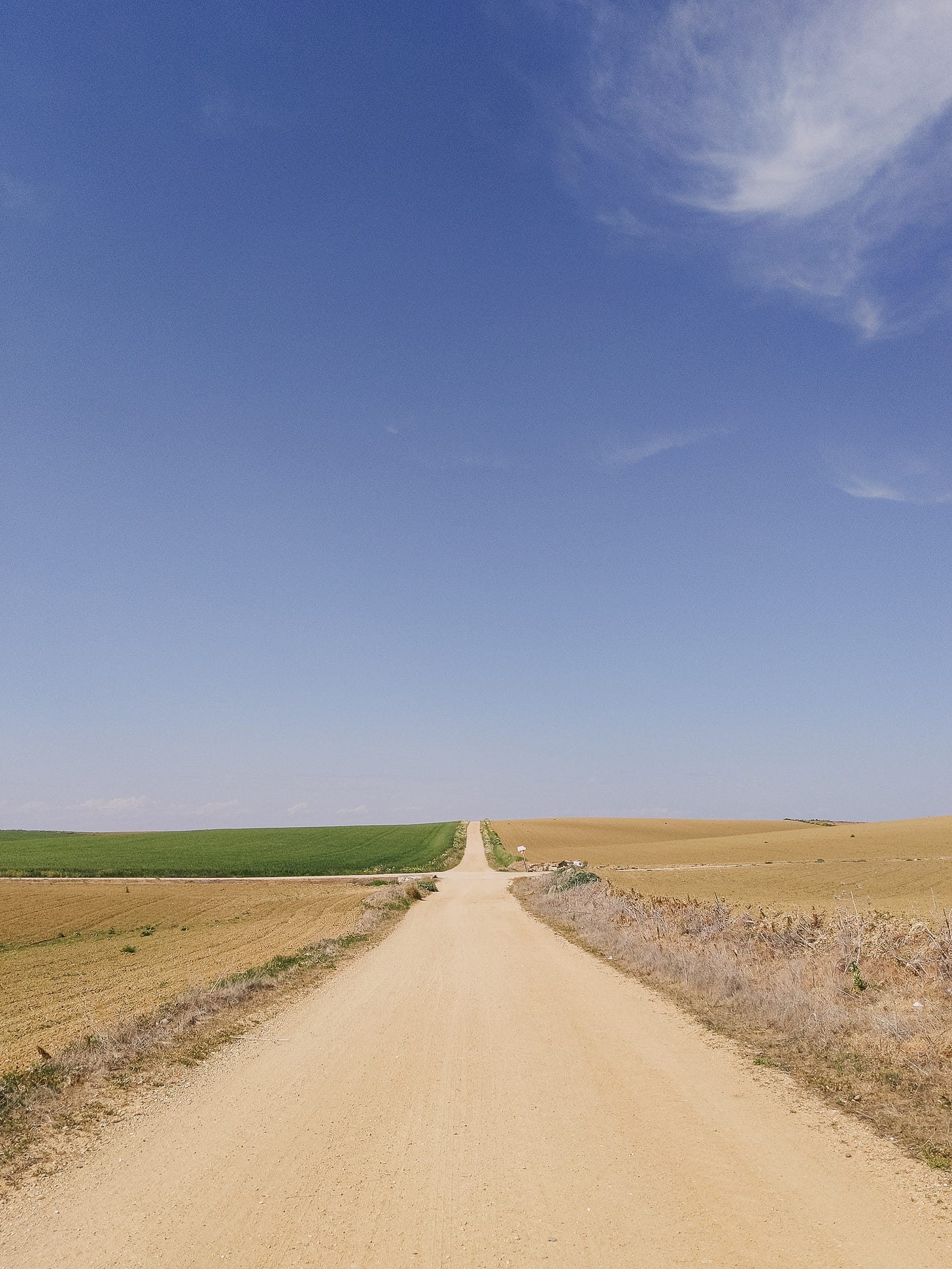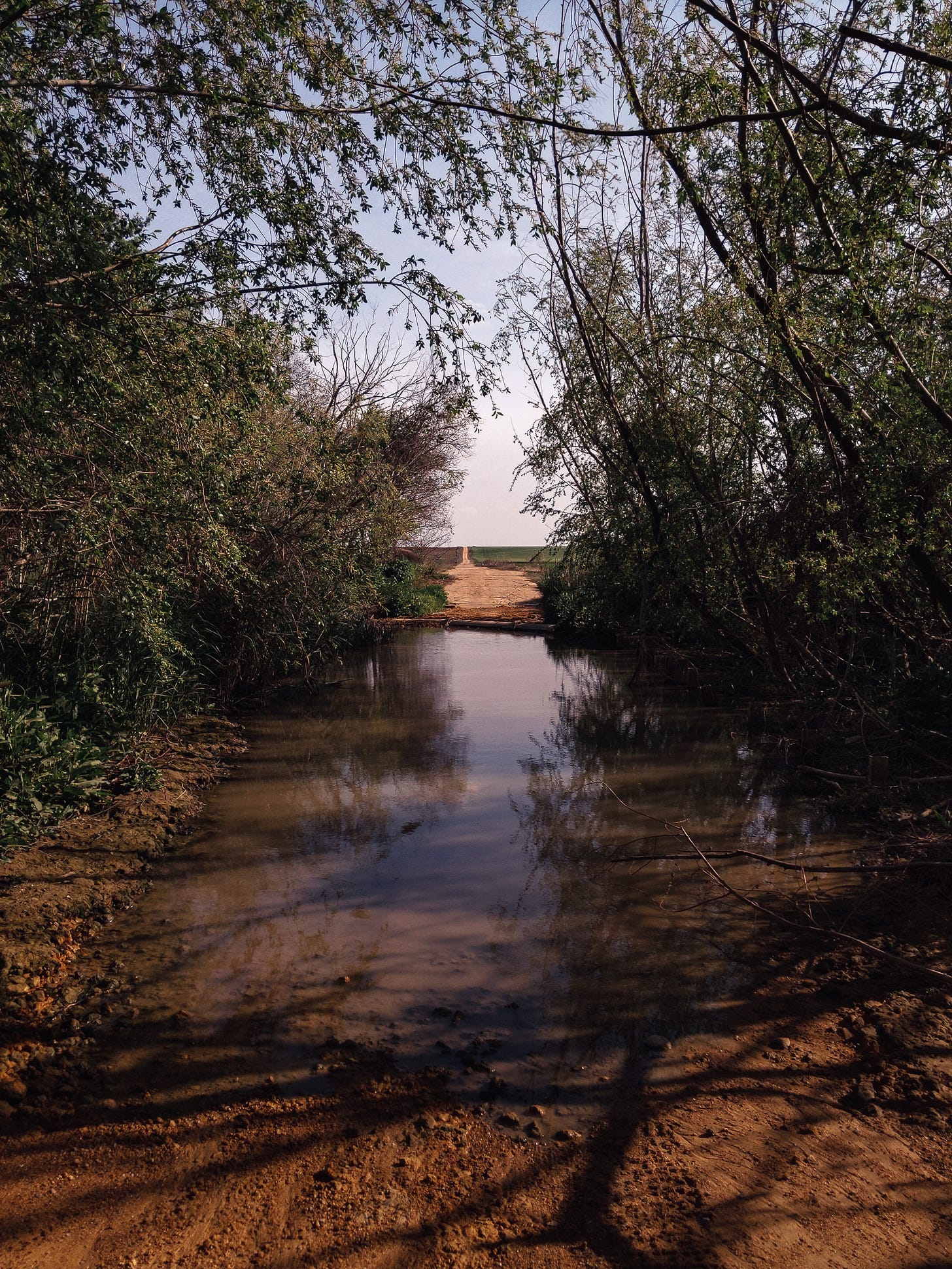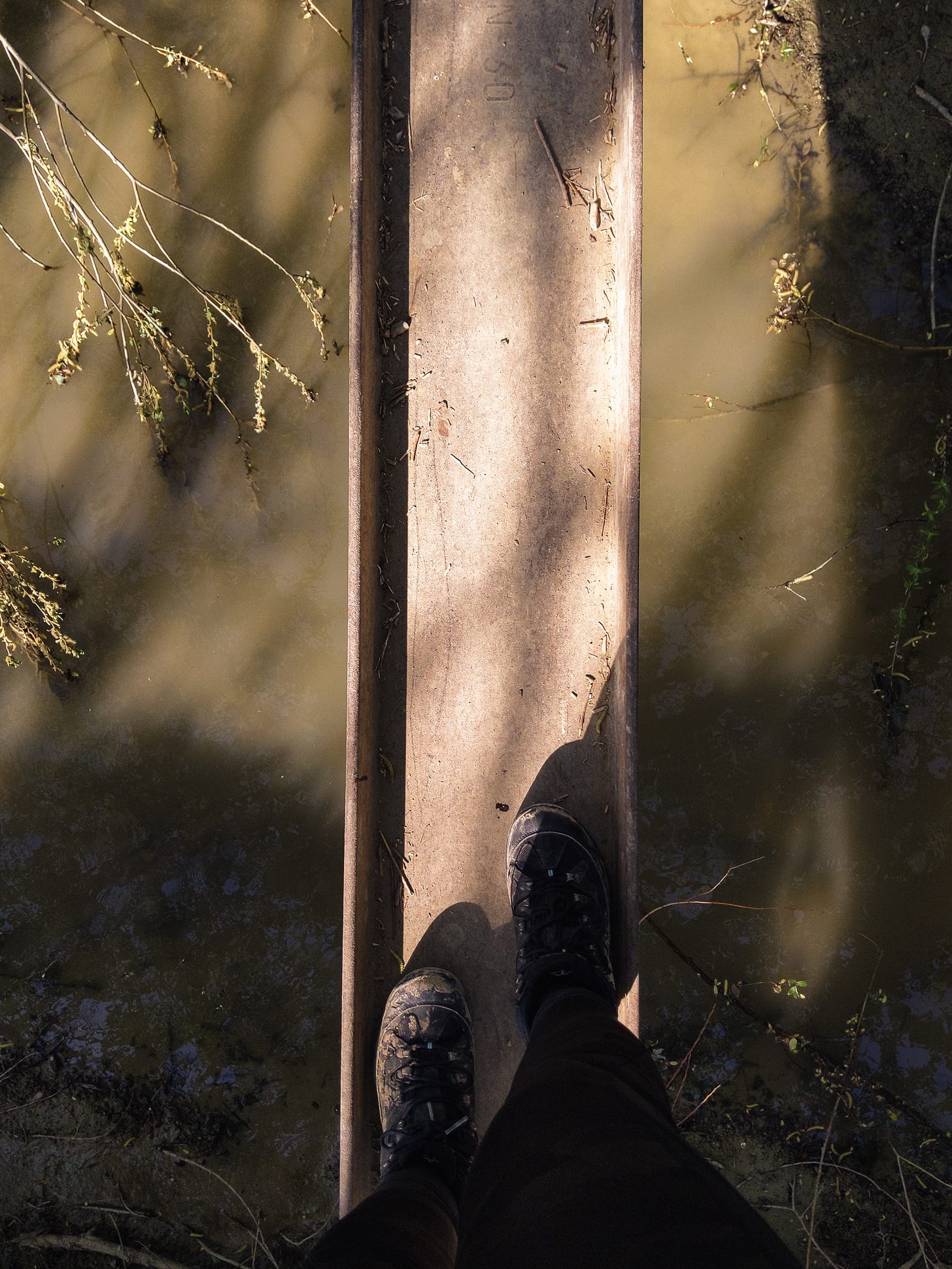 I finally arrived at the Albergue just after six. Albergues are essentially hostels dedicated to pilgrims walking the Camino, often run by volunteers in council-provided accommodation, but taking many other forms too, including community albergues, locals and foreigners running their own guesthouses for pilgrims, and religious albergues in nunneries, convents and similar. Most of these places are very low cost for pilgrims, between €3 - €10 for a night with more luxurious and private rooms also available at higher costs. To be recognised as a pilgrim, you need a credencial - a pilgrim passport - which you get stamped each night by your host.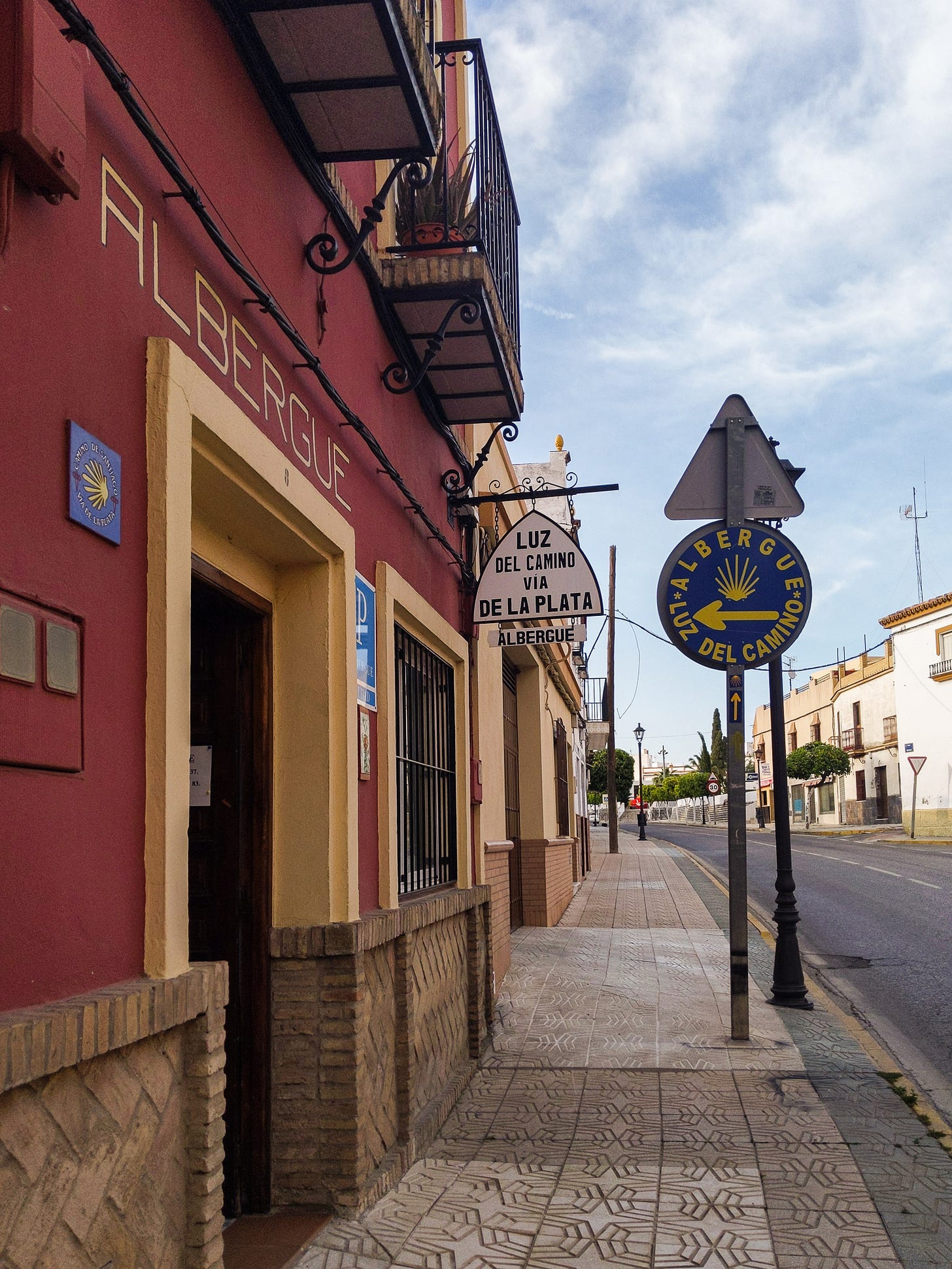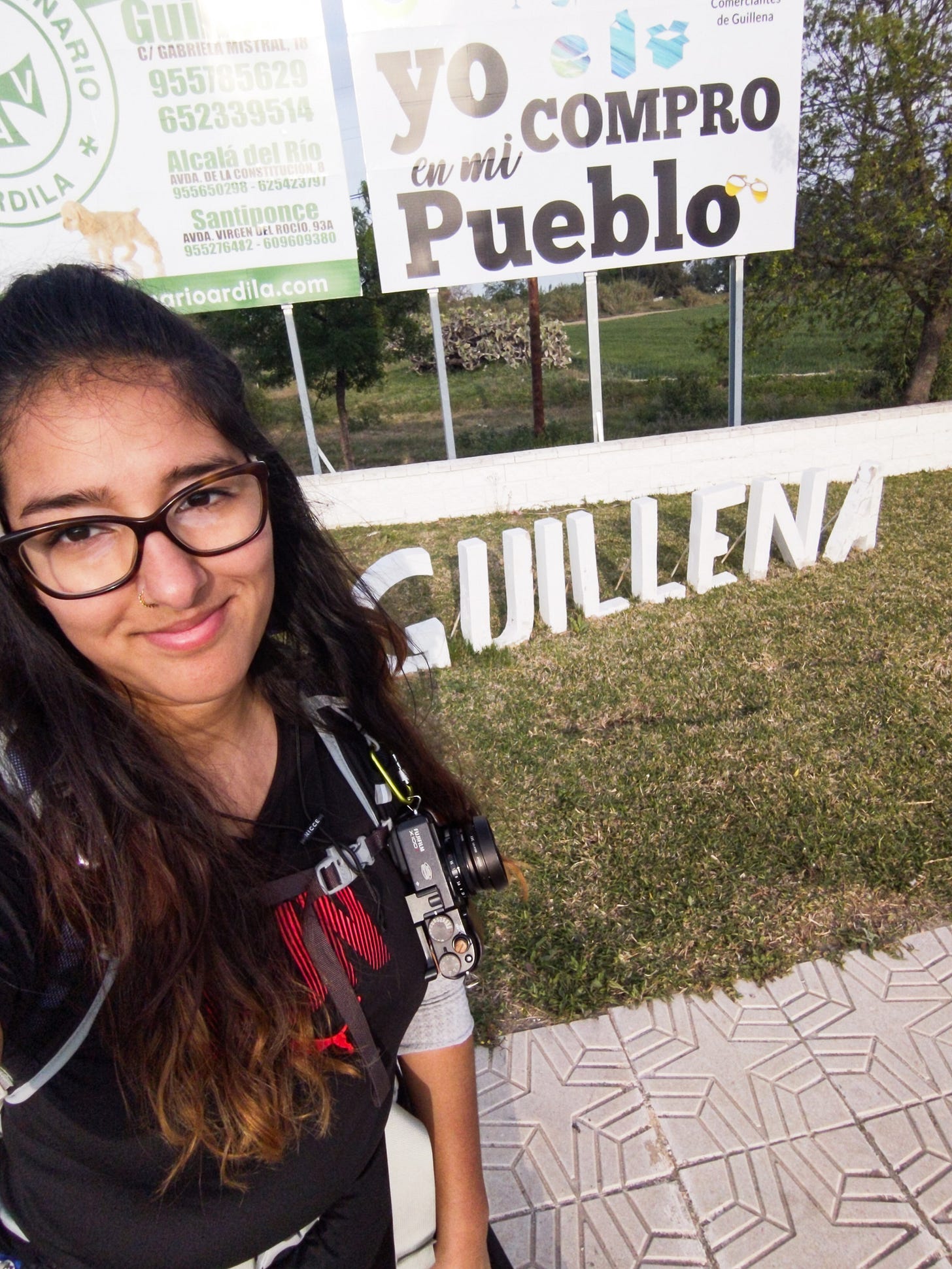 After I arrived, looking a bit like I'd been walking for more than just one day, I showered, spent some time talking with Peter the hospitalero - the host - and then went to dinner at the local pensioner's community cafe. I remember Europe's The Final Countdown was playing on of those old boxy TV screens held up high. I enjoyed my pilgrim's dinner, watching the sky turn periwinkle and listening to the wind that had started to pick up in time for the next day's predicted storm.
Most evenings were spent relaxing, recovering from the day. The beds at this place were some of the most comfortable, already made up for us with sheets and duvets; usually, you would be provided with the mattress only and you'd need a sleeping bag, sometimes blankets on cold nights. Pure luxury on that first night, not to be experienced again for a while.
I don't remember much about that first evening, I likely passed out in my pleasantly empty-but-for-one-other shared room. I didn't speak much to the other pilgrim at the time, an older woman who was also walking solo. Later on, we actually met up again and spent a week, maybe more, walking together and becoming friends along with a few other walkers. It took me a while to realise that we'd already met that very first evening.
A x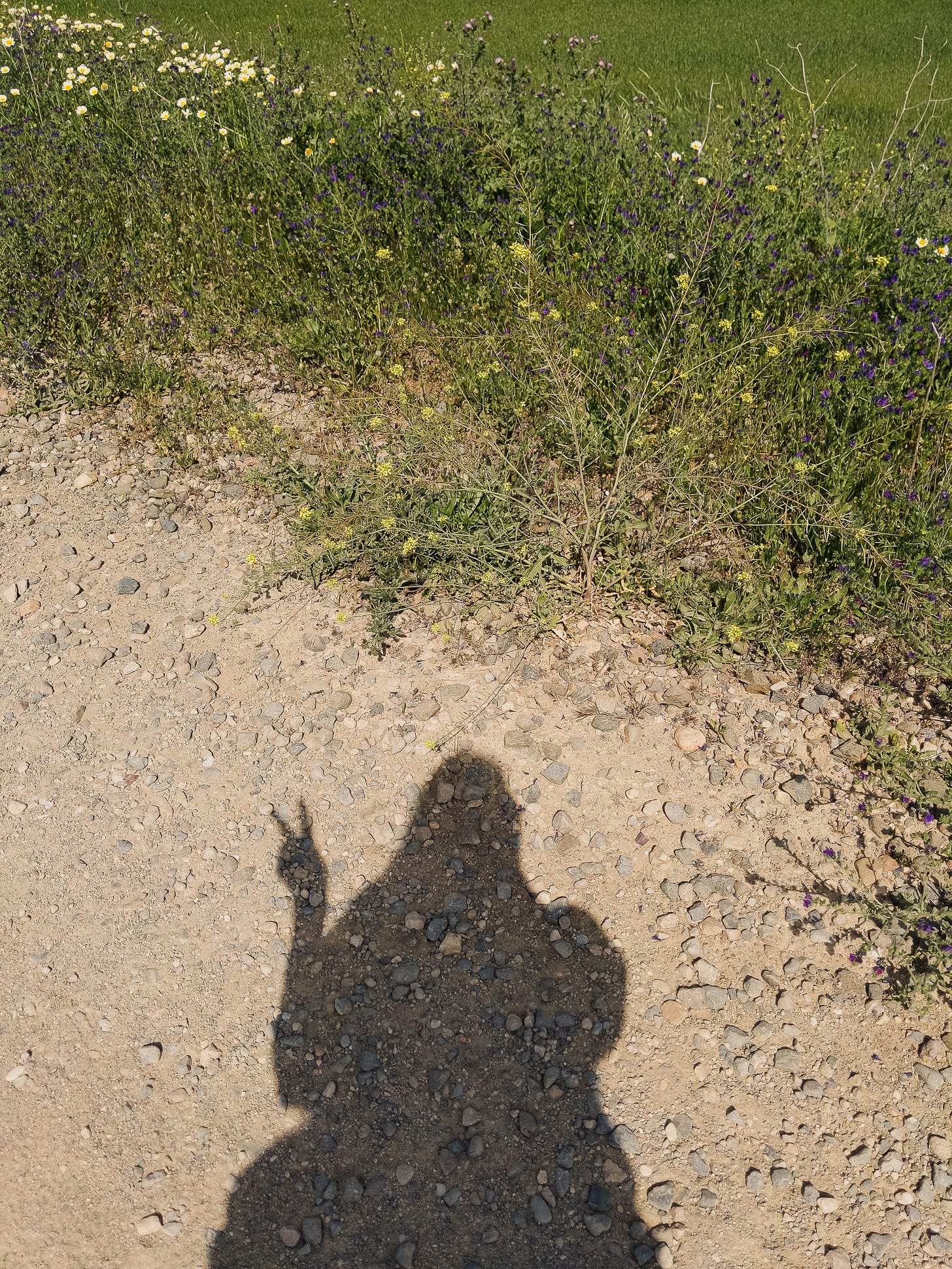 ---
I'm a freelance portraiture and documentary photographer based in London. I enjoy telling stories about adventure, the outdoors, and our relationship with the natural world.
In this newsletter, I'm digitally retracing my steps on the Camino de Santiago. From March to May 2019, over 45 days, I walked over 900km along the Via de la Plata (the Silver Way) route of the Camino de Santiago pilgrimage in Spain.
If you like what you read and would like to donate a strong cup of tea, you can. This twitchy-eyed creative will thank you for the support and the caffeine.
You can also support me for free by pressing the little heart button, sharing this newsletter with others, and leaving a comment. You can also find me on Twitter and Instagram.